You've got your gifts wrapped, your decorations hung & your cheer is running on overdrive, but do you have your bases covered with some cannabis holiday recipes to share with your family and friends this season? As a special gift to you, we've combed through our recipe books to search out six awesome ways to make your baked goods a little more baked.
No matter what your sweet tooth is craving, there's sure to be something for everyone across these classics and contemporaries. Without further ado- let's get to it.
Cannabis Holiday Essentials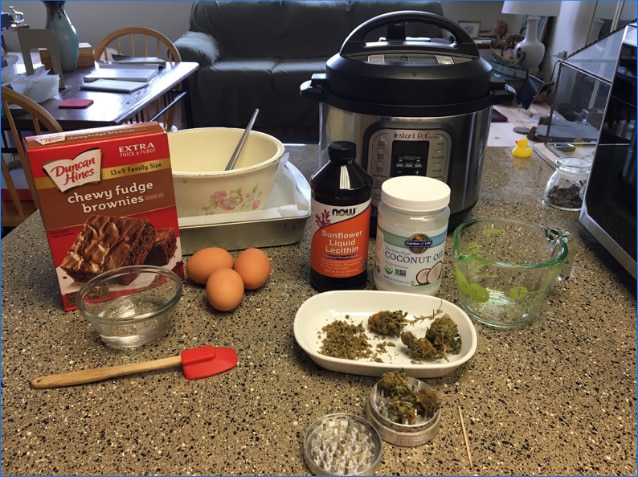 One of the first steps to set the scene for Christmas is finding the perfect tree. It's really no different when it comes to these cannabis holiday recipes because the products you use will serve as the starting framework.
There are a plethora of options out there from the most mellowing indicas to buzzy sativas and everything else in between. High THC or high CBD– it's your call, but we recommend having a few of both on hand. If you want to learn more about the differences in effects between the two, be sure to check out our post.
All of these recipes will use either butter or oil as the main carrier for your cannabis, so you'll want to make sure you're stocked up before the flour hits the mixing bowl.
We've got a killer guide on the basics when it comes to oil along with several different prep methods. If butter is more your thing, we cannot give enough praise to the Magical Butter machine as it really makes the process a breeze.
One more thing before we get onto the recipes- use an edible calculator! This tool is a must-have this cannabis holiday season to make sure you're not disappointed by weak doses and it'll keep you from getting floored by overly potent product.
Onto the recipes!
Sugar Cookies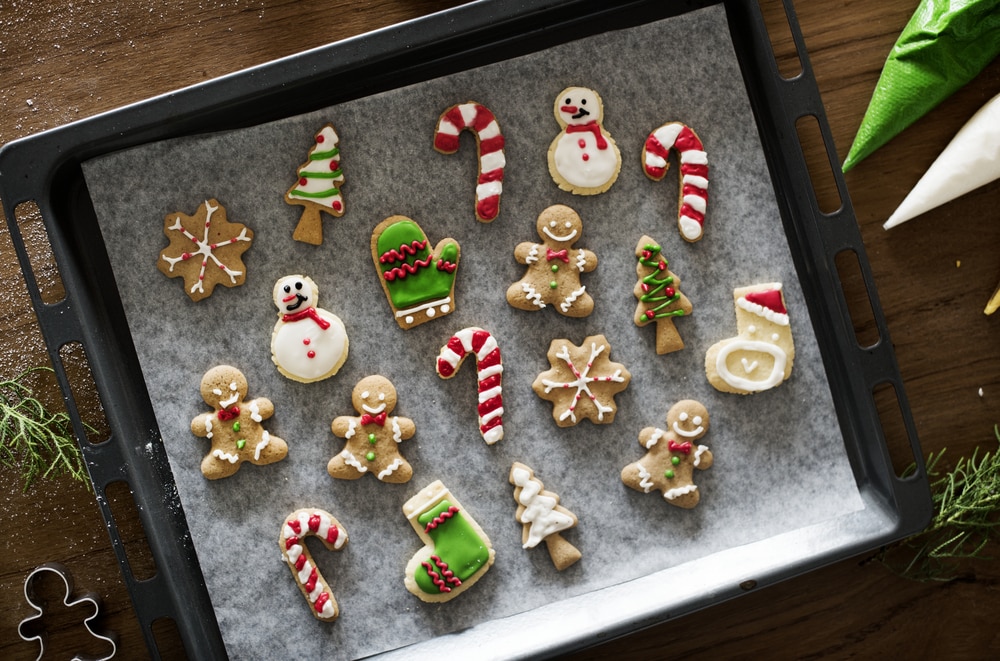 It really doesn't get more classic than sugar cookies. They're quick, easy & always a crowd-pleaser.
This recipe comes courtesy of AllRecipes & it's a straightforward way to begin your foray this cannabis holiday season.
You'll need:
1 & 1/2 cups of softened cannabis-infused butter
2 cups of white sugar
4 eggs
1 teaspoon of vanilla extract
5 cups of all-purpose flour
2 teaspoons of baking powder
1 teaspoon of salt
Mix the butter & sugar together in a large bowl until it's a smooth consistency.
Add in your eggs & vanilla extract. Whisk.
Add in your dry ingredients & combine thoroughly.
Cover the dough & refrigerate for at least an hour.
Using a rolling pin, spread your dough onto a lightly floured surface at a thickness of about half an inch.
Use some cookie cutters for your desired shapes & place them on an ungreased baking sheet about an inch apart.
Put them in a preheated 400-degree oven & bake for 6-8 minutes.
If you want to get even more decorative, here's a link to a delicious icing that comes together pretty easily. If you're feeling extra adventurous- use some of your cannabis-infused butter in the icing for an extra kick!
Spritz Cookies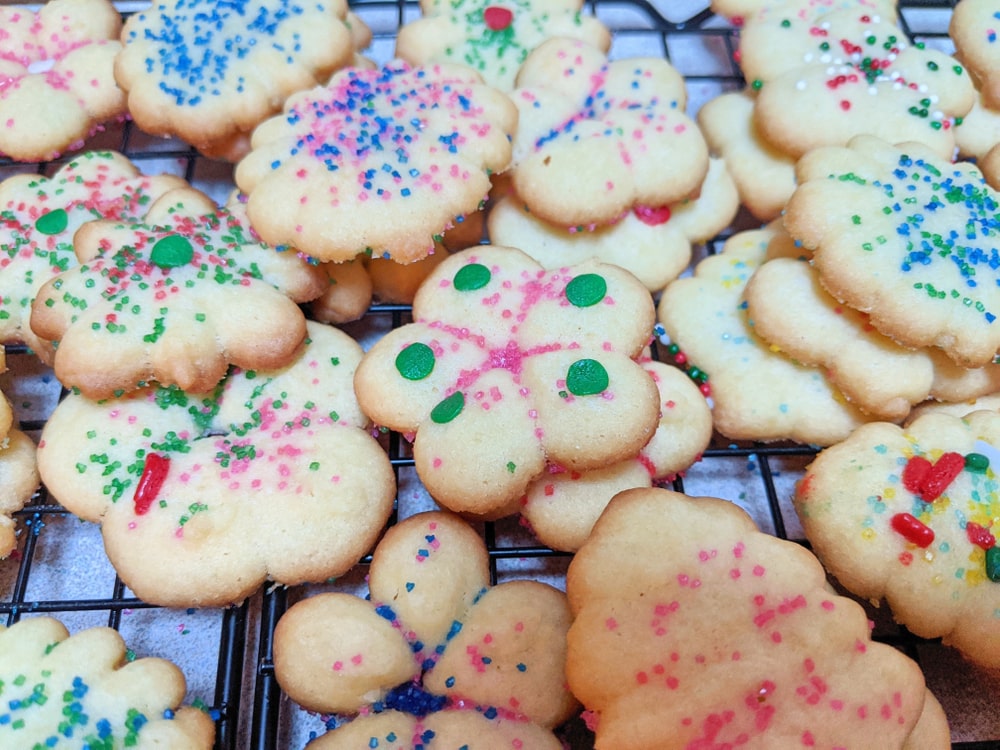 These spritz cookies by Taylor Kiser are light, citrusy & egg-free way to kick start your cannabis holiday.
You'll need:
1/2 cup of cannabis-infused butter
1/2 cup & 3 tablespoons of sifted powdered sugar
1/4 cup & 3 tablespoons of cornstarch
1/2 teaspoon of vanilla extract
1/4 teaspoon of grated lemon rind
pinch of salt
2 tablespoons of room temperature unsweetened vanilla almond milk
1 cup & 3 tablespoons of sifted whole wheat pastry flour
sprinkles
Mix the butter, powdered sugar & cornstarch in a large bowl.
Add the vanilla extract, grated lemon rind & salt.
Slowly add the almond milk.
Mix in the flour 1/2 cup at a time.
Form your cookies & place them on an ungreased baking sheet.
Top with sprinkles.
Bake for 10-11 minutes in a 375-degree preheated oven.
Remove & cool.
Cannabis Holiday Chocolates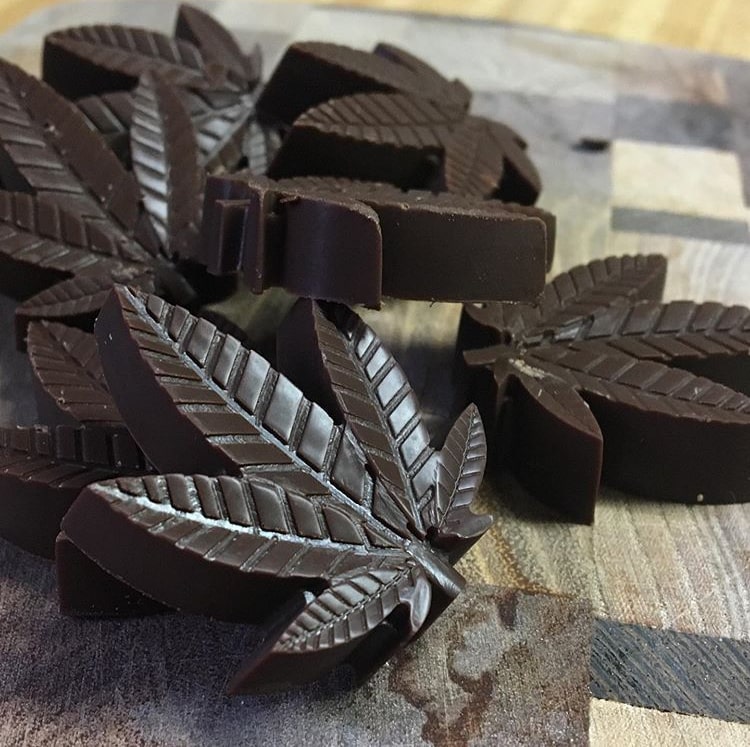 Chocolate is easier to make than you think & adding cannabis-infused oil can take it to the next level with this recipe from Cloudy Kitchen.
You'll need:
1/2 cup of cannabis-infused coconut oil
3 tablespoons of raw honey or maple syrup
1/2 cup of cocoa powder
1/2 teaspoon of vanilla extract
Melt your coconut oil on low heat.
Add in cocoa powder, your sweetener & vanilla extract.
Continue to mix to prevent any sticking or burning.
Remove from heat & pour into molds.
Refrigerate to harden.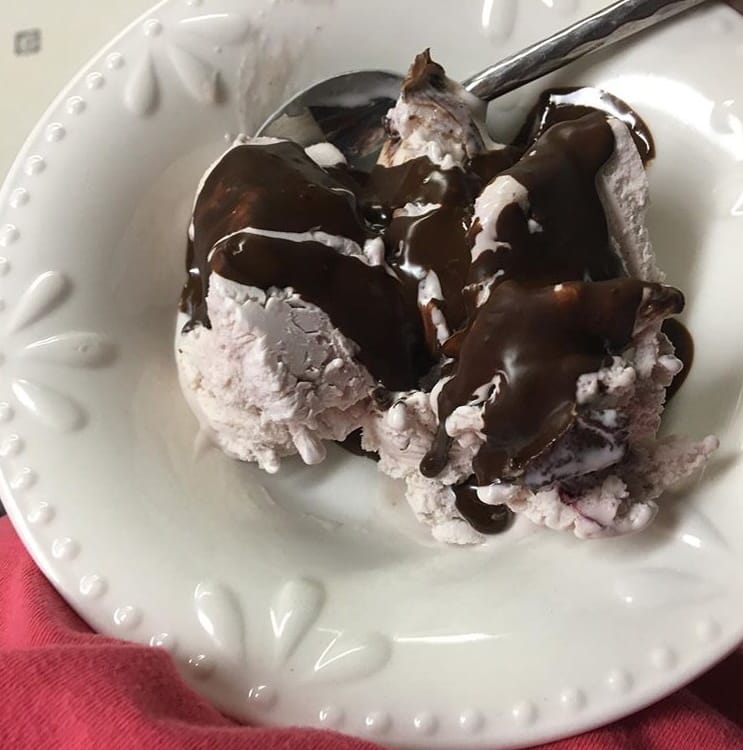 These are awesome because of their versatility. You can melt them back down to use as a topper for ice cream like we did in the photo above or mix them into some of this Reindeer Chow from Dinner at the Zoo!
Cannabis Holiday Fudge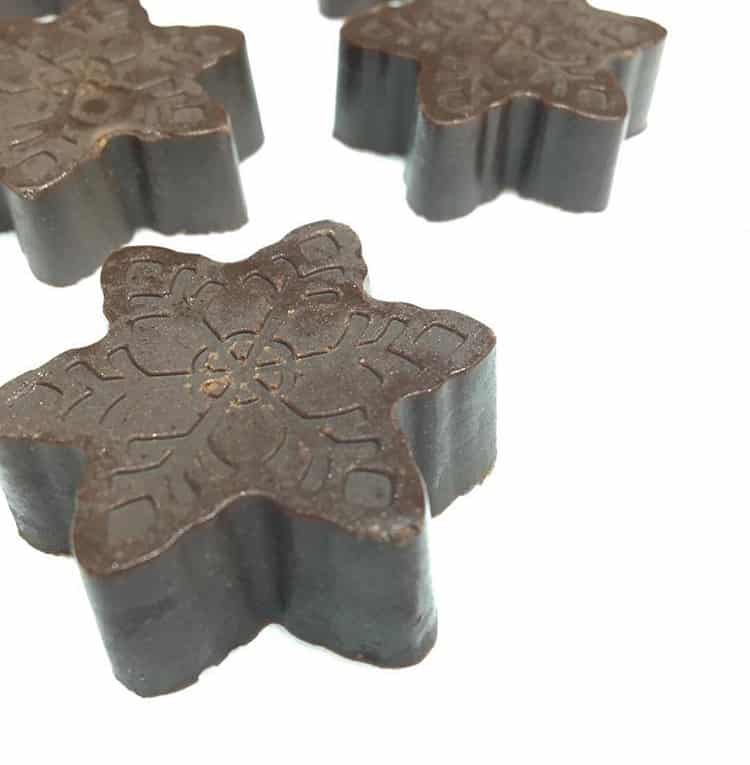 Don't fret, my vegan friends! We didn't forget about you this cannabis holiday season! This fudge recipe from Golden Barrel is sure to satisfy.
You'll need:
1/2 cup of melted cannabis-infused coconut oil
1/2 cup of cacao powder
1/2 cup of a smooth nut butter
1/4 cup of maple syrup
1/8 teaspoon of salt
Set aside a loaf pan lined with parchment or molds.
Mix all of your ingredients in a small pan.
Heat your mixture over medium heat, whisking until smooth.
Remove from heat & pour into the loaf pan/molds.
Refrigerate for at least 2 hours.
Peanut Brittle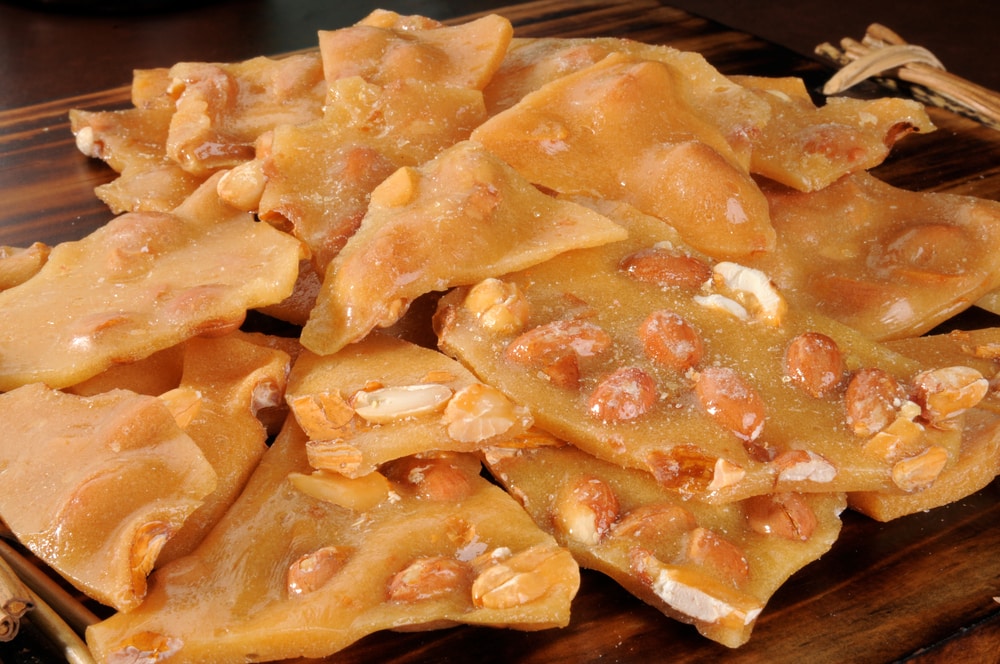 Fans of hard candies will go head over heels for this cannabis holiday peanut brittle from AllRecipes, but be sure to have all of your ingredients measured & at the ready along with a candy thermometer!
You'll need:
2 tablespoons of softened cannabis-infused butter
1 cup of white sugar
1/2 cup of light corn syrup
1/4 teaspoon of salt
1/4 cup of water
1 cup of peanuts
1 teaspoon of baking soda
Set aside a large greased baking sheet.
Mix your sugar, corn syrup, salt & water in a saucepan.
Bring to a boil over medium heat, ensuring the sugar is completely dissolved.
Add in peanuts.
Place a candy thermometer in the saucepan.
Continue to stir until the temperature reaches 300 degrees.
Remove from the burner & stir in your butter & baking soda.
Pour onto your cooking sheet & shape with forks.
Cool & then break into pieces.
Gingerbread Cookies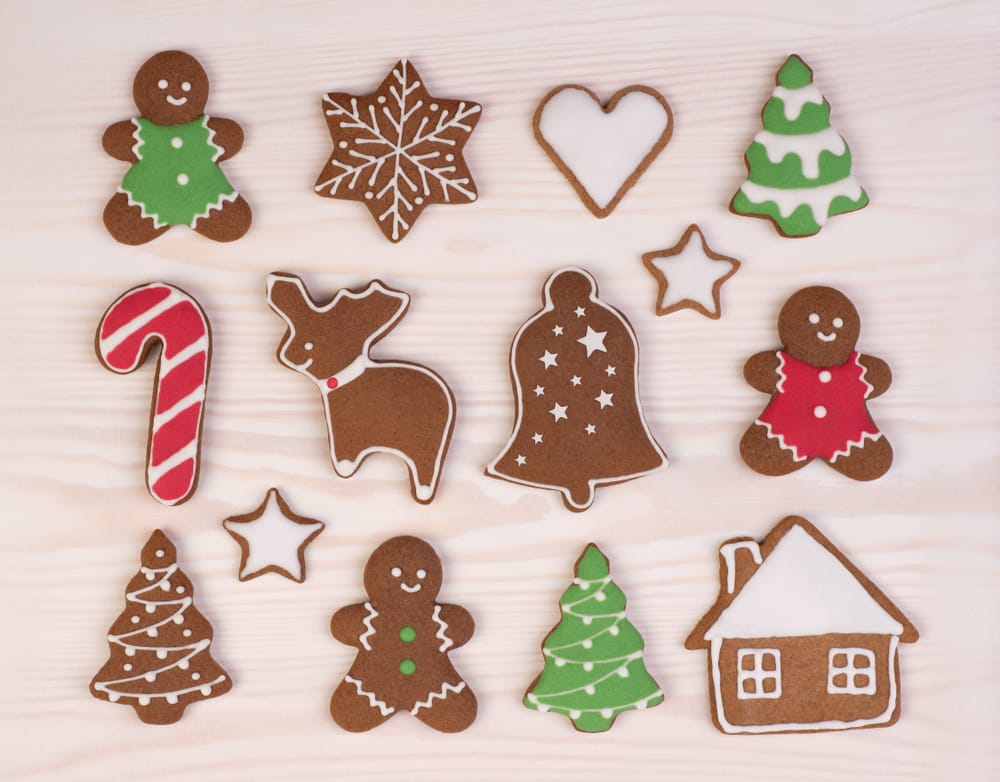 Last but certainly not least is the perhaps the most iconic cannabis holiday recipe of the bunch- gingerbread cookies! While there's a ton of recipes out there, this one from Cleverly Simple resonated with us.
You'll need:
2/3 cup of cannabis-infused oil
1/4 cup of blackstrap molasses
1 cup of dark brown sugar
2 eggs
3 cups of all-purpose flour
2 teaspoons of ground cinnamon
2 teaspoons of ground ginger
1 teaspoon of ground cloves
1 teaspoon of baking soda
1/2 teaspoon of salt
Mix your flour, cinnamon, ginger, cloves, baking soda & salt in a bowl.
In a separate bowl, use a mixer to combine your cannabis-infused oil, molasses & brown sugar.
Add in one egg at a time to the mixture from step two.
Add in your mixture from step one.
Work your dough on a heavily floured surface until it's not sticky.
Cover the dough in plastic wrap & refrigerate for at least 3 hours.
Roll your dough to a thickness of 1/4 inch on a lightly floured surface.
Cut your shapes & place on an ungreased baking sheet.
Bake in a preheated 350-degree oven for 8 minutes & remove from the tray after 2 minutes of cooling.
Wrapping Up
These should give you quite the jump start on your cannabis holiday season. Got a favorite recipe you'd like us to cover? Sound off in the comments below.
Happy Holidays from all of us at THCSD!